NC Farm-to-School Art Contest
Newton-Conver City Schools Child Nutrition Department participates in the North Carolina Farm to School program and receives fresh fruits and vegetables from local farms across the state.
Each year, the NCDA (North Carolina Department of Agriculture) prints Farm to School Calendars, which showcase art from K-5 students. It would be absolutely wonderful to see artwork from our very own Shuford Owls displayed in the 2023-2024 calendar!
Entries are due to your child's teacher by Friday, November 18th if you wish for the school to submit the artwork on your child's behalf. You can find information on how to submit independently here.
The picture below lists the criteria that must be met for submission: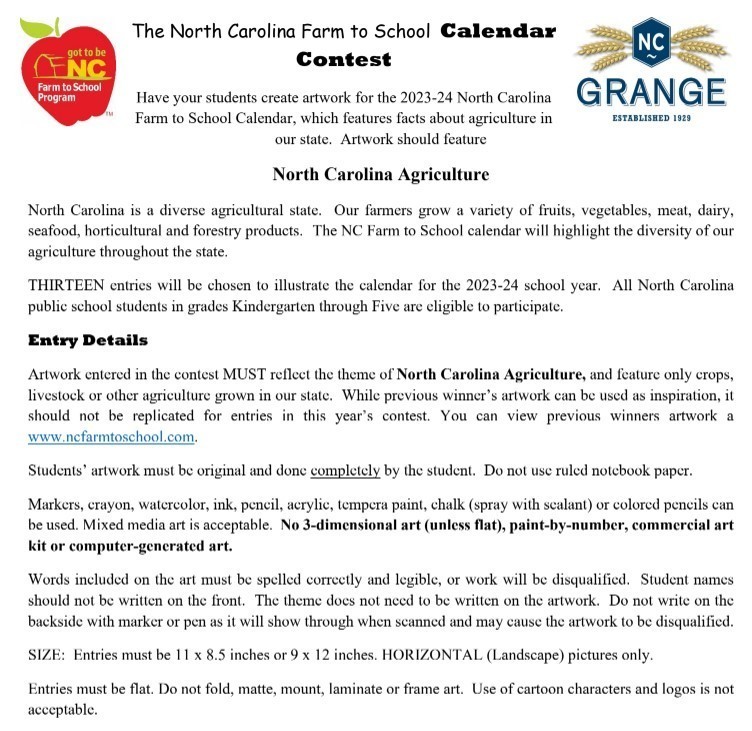 ---
The information below comes directly from the NC Farm to School Website
Did you know without agriculture we would not have food to eat, materials to make our clothing, or wood products to build our homes? Agriculture is North Carolina's number one industry and includes food, fiber, fishing, forestry, and the green industry.

The NC Farm to School art contest encourages public school students in grades Kindergarten through fifth to create artwork showcasing "North Carolina Agriculture." Each year winners are chosen, and their artwork is featured in the NC Farm to School Calendar.
The contest is coordinated by NCDA&CS with support from the NC Farm to School Cooperative and the School Nutrition Association of NC.